Holding fast to conspiracy narratives pushed by Hillary Clinton (and her campaign of trolls) on Russia meddling, misogyny, racism that cheated her out of her destined Ovalating Office. Unfortunately, she is right, that media will follow her lead every time. While she and the entrenched media establishment are baited and trolled by Russia. They would take career Russian propagandists word or version of events over Trump's almost every time.
It's really easy if you are in the Kremlin hell-bent on sowing discord in America. If destroying credibility in American institutions is their goal, then the Left hands them a victory flag. So even when Trump goes to Poland to make a classical academic defense of western civilization, especially then, they have a collective panic attack and cannot recover. But intensive care could not treat their disease.
Then came his next trip to France with liberal Macron, their macaroni boy of Paris they fell for head first. This time MSM decided to downplay coverage of the visit ignoring most of the ceremony, except the presser to push Russia questions. Even the centennial of WWI and France's Bastile Day got marginal coverage. Jake Tapper called it just a photo-op for Trump. Right a 100 year anniversary is just a photo-op , world history just gets in the way. After all, that is the way they see it.
So now, once again, another historical marker pops up that media seems too preoccupied with Russian propaganda to notice — or give due diligence to. It's like you have this Russian spy novel playing out in the background to obfuscate any real news.
US Has Produced More Oil Than Saudi Arabia For 4 Straight Years [GRAPH]
Saudi Arabia has lagged the U.S. in oil production for the last four years, according to federal data compiled by University of Michigan economist Mark Perry.
Perry created a chart Saturday showing just how far behind Saudi oil production has trailed U.S. production. Rising U.S. production combined with OPEC policies drove crude oil prices down to new lows. Monday, a barrel of oil costs $46.26, while the same barrel would have sold for $109.04 in June 2014.
U.S. oil production, on the other hand, is increasing. The U.S. imported about 60 percent of its oil in 2007, but by 2014, the country only imported 27 percent of its oil — the lowest level since 1985. Rising oil production has reduced demand for Saudi oil abroad too, keeping prices low.
Saudi Arabia can likely handle cheap oil better than other Organization of Petroleum Exporting Countries (OPEC) nations, but cheap oil is still devastating the country.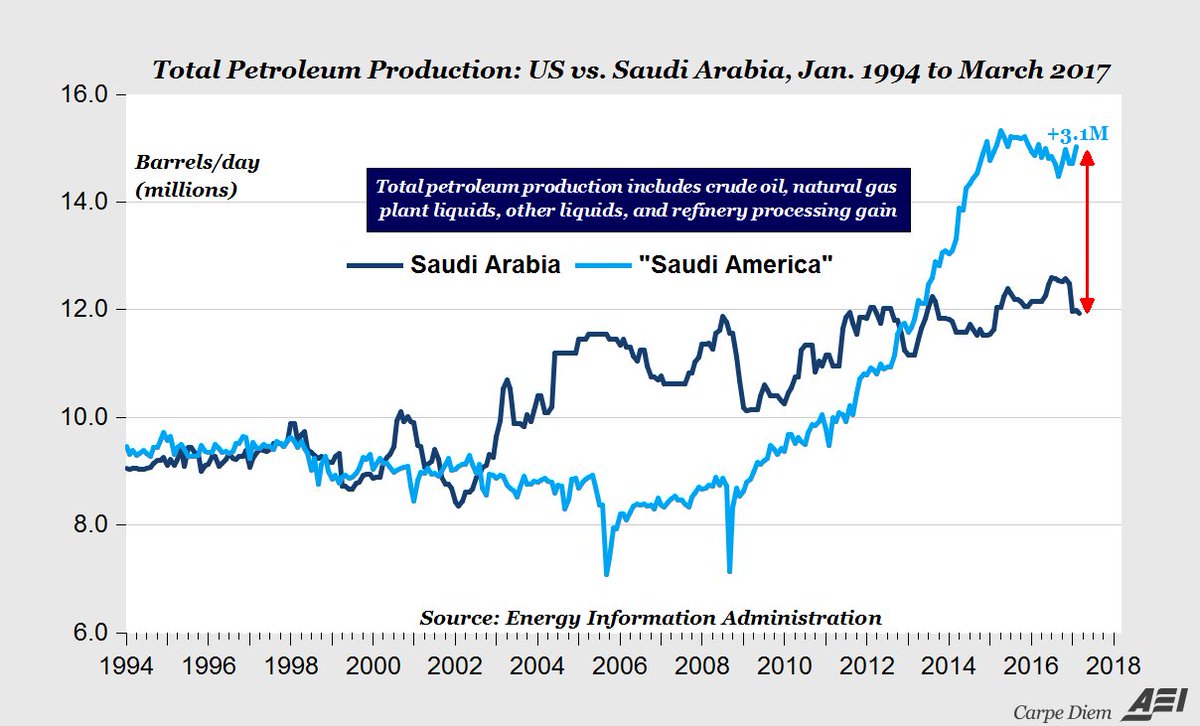 Read at Daily Caller
And yet they wonder why we call MSM Fake News? Everything positive — as they define it — about their messiah's golden throne was heralded from the mountaintops to make sure it echoed to anyone. It was unavoidable. They ran his Saturday addresses to tout all the great, but invisible, good news. It was good because they said so. Job numbers, even when bad, were called good. Or, as the Bible says, "those who call evil good and good evil." And it worked, or saturated the airwaves to a point no one else could be heard.
Spending, national debt, budget issues. Remember Obamafiles claimed he halved the budget 'deficit' to cover the 2o trillion dollar explosion. The fairy dust worked, put some lipstick on that pig and sell it like the sweety-pie lie it is. He depleted the military, and budget, but who cares about that thing? All is good, they said. 'These are the good times.' Never mind that you did not see or feel it. You weren't alone though. Most didn't, still you had to listen to regurgitated talking points of how great things were going.
No, we weren't wrong. Our instincts were not misguided. We weren't misinformed. We were not too stupid to understand. We were not uneducated halfwits. We were just being constantly lied to on such a level, to such a degree, that Americans never were subjected to before. Even low information voters knew something was wrong. Economists, real ones that is, were not impressed. But even they had a hard time getting any information out. It was all being blurred, blotted out, and intentionally drown out by the so-called good news coming directly from, and being dictated by, the White House.
But it was all good in those days and there were no questions to ask, because no questions were necessary. Just report the White House talking points, life was easy for reporters. Obama would even tell press what stories they think should be covered, and what stories they didn't think deserved time.
Guess what happened?
Remember Benghazi, IRS, Lois Lerner, or Fast and Furious? Leading from behind was actually a defense strategy they could get behind. Meaningless red lines were all the rage. Russian intervention? It really is not intervention when you are inviting them into Syria and altering your national policy to their liking and getting nothing in return. Of course that is not intervention. That is failed US leadership like we never experienced before either. It was complicit failure. Now they are paranoid about intervention? They opened the door, invited them in, coalesced with them. Is it any surprise Russia wasn't the greatest or most respectful house guests, when Obama shows no respect for our own house?
Then, to top it all off, when Obama left he had them all declare that he had a completely scandal-free administration, not even a little one. Remember that? So it was an insult on reason and intelligence. It was a fraud. Obamacare was created, built and sold on lies. They named it the Affordable Care Act.
The article above, while it is good news to be ignored under Trump, will likely be co-opted for propaganda value by Obamafiles — who are just as active outside the Office as they were in the White House. So they are quite anxiuos to take credit for anything good. It is what they do. Though our growth and oil business in particular was in spite of Obama's war on energy, not because of it. But that doesn't stop them from laying claim.
Anyone dishonest enough to prop up Obama's regime for 8 years is certainly going to use any dirty trick to that end, to credit Obama with a net positive. A guy like Obama that never had to live under or feel the effect of his own policies. Calling evil good was quite popular, getting even easier with practice. It was instant revision everywhere.
So now that we have oil production growth, who do you think can find fault with our achievement? That's right, the same people who will gladly try to lay credit to it. But the Left's "green" team will condemn it as a negative. Oil, fossil fuels is bad juju. Which is why we knew Obama was never supportive to the industry. Yet he wants credit? In your dreams, Obama. And if America was not as innovative, like we've always been, this could not have happened. Certainly it was nothing Obama had a hand in.
However, we shouldn't be afaid to admit good news, because some of it took place under Obama's tyranny. It began and was under way before him. Like Clinton had the benefit of the tech boom. But Obama did about everything he could to step on it.
Under Trump, all good news will be summarily buried, or tortured by Obama revisionists if it refuses stay in the hole. Since the Left controls the media, that is the way it is. And whatever they can tie to Obama's Legacy of Lies, they will. Memory Lane is not a place I'd want to live, if I were Obama
RightRing | Bullright