In probably a desperate act of relevancy, the Senate Intelligence committee announced Wednesday it would hold a press conference on the Russian inquiry into the 2016 election.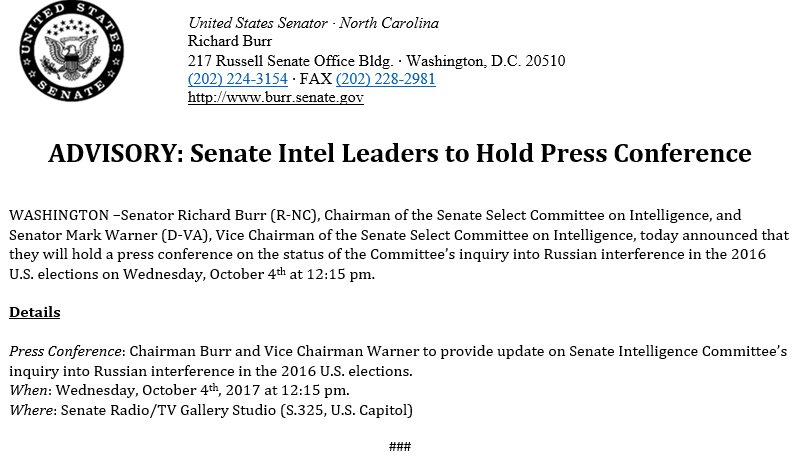 'No evidence, but we're still looking, looking, looking. We've got lots of doors — ones not closed or locked by Special counsel anyway — and we continue to search.' But they cannot give up the ghost of the 2016 election witch hunt. 'But we're "expanding" it'.
There was no new information and virtually no answers. Why they even had to hold it, I don't know? On the day and time Trump went to Las Vegas to visit victims, they had to hold a press conference. I once had a little respect for Sen Burr, but that is long gone. What a putz he turned out to be.
So they made news for not making any news, except to verify that they allow the Mueller witch hunt investigation to hold our government hostage. I'd like to know where in the Constitution that a special counsel is to control Congress?
The only big question answered was whether they would release questionable Russia Facebook ads? The answer was: "we don't release documents provided to our committee." They could have just issued a statement. Maybe they could remind leftville media that the electorate determines election results, not ads. Media doesn't know.
All I know is that this is not the government we elected. We'd like that government returned to us ASAP.
They should have called this as a Swamp Update or an "Update from the Swamp."