Since the left is so big on collective, I thought I'd take a nice sampling of their collective voice over a week. I'm sure I missed a lot.
Jimmy-"guess what's in my pants"-Kimmel says of people who stopped watching his anti-Trump show that they likely aren't the kind of people he would want to talk to anyway. He's glad to be rid of them and would do it all again.
Eminem, aka Marshall Bruce Mathers III, did a video giving any of his fans who supported Trump the finger, spitting on the floor, saying he doesn't want them.
Colin Kaepernick now claims that he's been colluded against in a conspiracy, files a suit.
Kathy Griffin stuck her head up to say "I'm being blacklisted". But doesn't mention the spying complaints and restraining order against her. Her booking canceled but last week was wearing a Trump mask giving him the unapologetic finger. She told the audience it would be all over youtube and right-wing media. Now she's back to Trump victim #1.
Berghdal goes to court only to blame Trump for his treason woes.
Hillary weighs in on the flag protest. The flag and anthem are just dog whistles too.
"Let's be clear, those players aren't protesting the national anthem or the flag," Clinton said. "They're protesting racism and injustice, and they have every right to do so!"
Dear delusional loser, you don't recognize a protest of the flag when you see it.
Oh, let's not forget Hillary went over to London and blamed Nigel Farage and Brexit for her loss. Brits cost her the election. She must have run out of people to blame in the US .
With all this talk and bitchin' lately, don't think McCain could hold his tongue.
John McCain went to Philadelphia to receive an award "for his "lifetime of sacrifice and service" to the country. Ironically, he used the opportunity to viciously call our patriotism "some half-baked scurrilous nationalism" that needs to be condemned. Well, that means we all need to be condemned. We re unpatriotic. (call it Juan's wet kiss to media)
Referring to the new administration: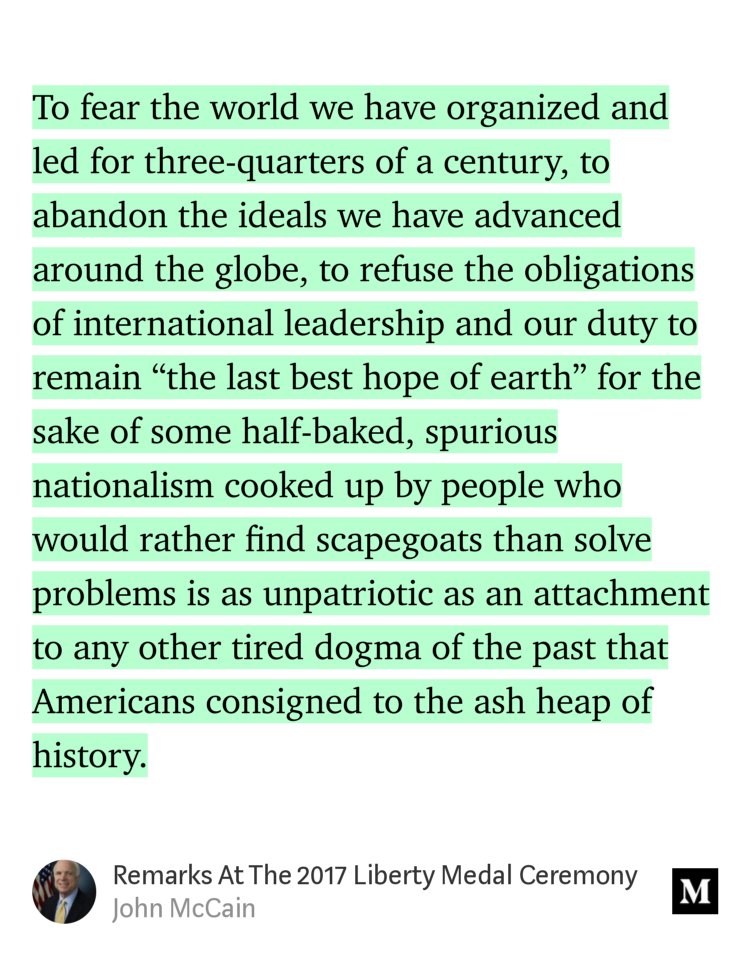 Echoes his Senate Floor rant where he lashed out at people:
"Stop listening to the bombastic loudmouths on the radio and television and the Internet. To hell with them. They don't want anything done for the public good. Our incapacity is their livelihood." adding "Let's trust each other."
He meant "trust" fellow Senators — not the people.
Reminiscent of his blast against Evangelicals and Christian conservatives back in 2000 in the primary. Then he branded Christian Conservatives "agents of intolerance" in the "outer reaches." He can broad brush us but we can't generalize on their actions.
Then McCain's recent slam in the Senate saying ignore us that we just don't want any public good. He is obsessed with blaming the people. Every speech is just another opportunity to bash conservatives in his tolerance mantra. Sounds like Hillary.
Hillary's instincts are always wrong on everything. Those instincts tell her to be quiet when she is under investigations or should hold a press conferences. Speak through lawyers. Instincts to get a private server, hide emails, then delete them. Then her instincts won't let her shut up when everyone wants her go away and shut up.
So all those "collective" attacks are directed at not only Trump but toward the people, especially supporters of Trump.(by peeping haters) All agree that we are the problem.
Right Ring | Bullright