I will make this as short as possible.
Once again, on the heels of the VA and counltess other scandals, we're faced with the same proverbial question.
Did he either misjudge the complete reaction to the trade of Bergdahl for the Taliban five, or is it another hot poker in the eye of America?
Now I'm leaning hard on the hot poker.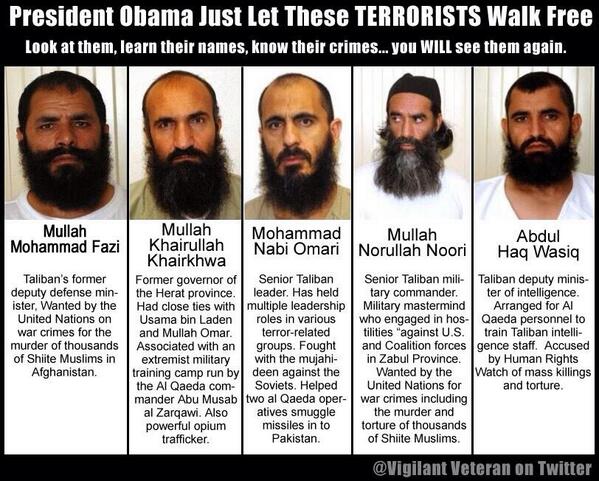 "These were not good guys. I am in no way defending these men. But being, you know, mid-to-high-level officials in a regime that's grotesque and horrific also doesn't mean they themselves directly pose a threat to the United States," State Department spokeswoman Marie Harf said Thursday. She accused critics of the release of having a political motive. – LA Times
Oh yea, "political motives" …….
Dep Ass Secretary for Public Affairs at HUD, Brandon Friedman tweets (6/4):
"Here's the thing about Bergdahl and the jump-to-conclusion mats: What if his platoon was long on psychopaths and short on leadership?" (1of5)
Van Jones(6/4): "This is an orchestrated smear campaign."
Jones concocts a conspiracy theory the night before:
"And then [Republicans will] say that the president of the United States is a traitor who turned in a traitor to let out our enemies. Is that the kind of Benghazi-zation of this that you think is appropriate for Republicans?"
Obama: "I'm never surprised by controversies that are whipped up in Washington, alright? That's par for the course." [we shouldn't be either]
Chuck Todd and Andrea Mitchell agreed that the White House had likely thought there would be "some euphoria around this, the only POW that was remaining in Afghanistan, that there would be a rally around the flag. That didn't happen."
"They were expecting criticisms of Gitmo, criticisms of the detainees that were chosen," Todd said. "They did not expect this criticism of the attempt to go get Bergdahl in the way that it was done."
Misjudged reaction or make that 2 pokers — Rose-Gardening Bergdahl and Taliban detainees — in America's eyes? And, since the left brought it up, who's operating on "political motives?"
RightRing | Bullright