Two terms come to mind with the ongoing government shutdown: lying and credibility.
What we have today is a National Credibility Crisis. Democrats will not talk now but claim if you just open government they will sit down and discuss it civilly.
But the problem is that we the people have been lied to for years and going back decades. It's so bad some of us can't remember a time when politicians were not lying to us.
Democrats are willing, no eager, to negotiate with Asaad, Iran, ayatollahs, Castro, Russia; but they cannot negotiate with the POTUS or Donald Trump. They cannot even negotiate on or talk about one of their first duties: to protect and defend the country.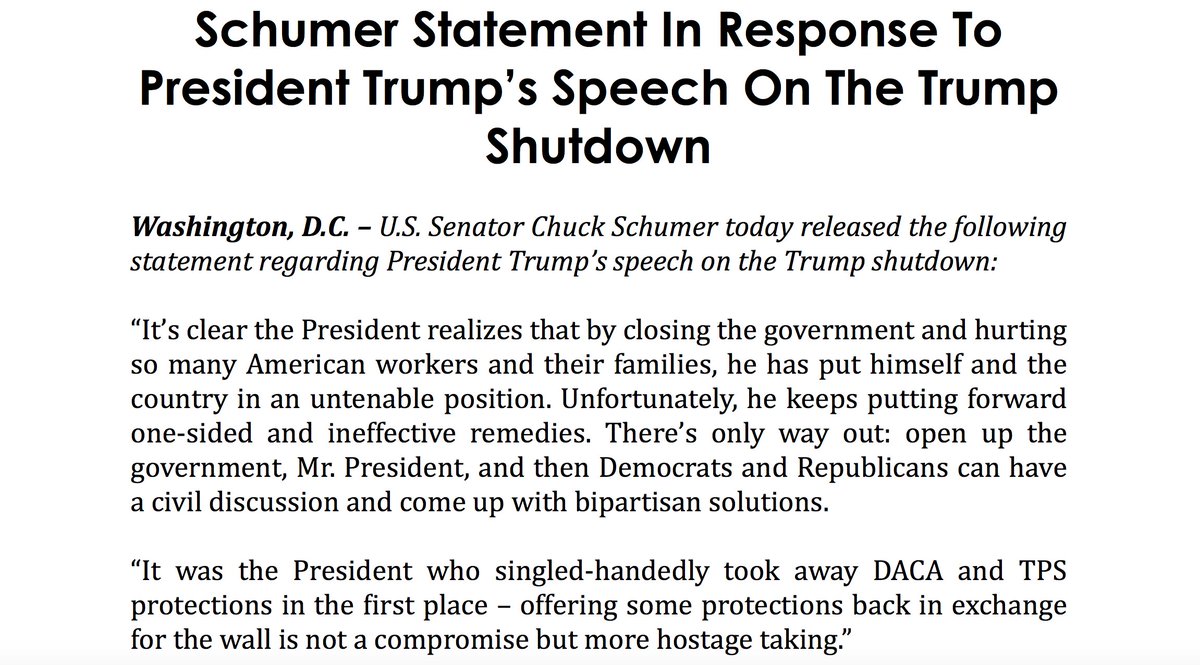 What "ineffective remedies," like a wall or barriers? But Chuck will not tell us what is ineffective about the wall? It works where it is used and has been proven effective. The border patrol and professionals all agree that it is necessary.
The same Democrats voted for it multiple times. Schumer owes the people an explanation since he is staking our security on it, and disrupting our Government over it.
The unfortunate and "unattainable position" is the chronic state of lying to the people. Chuck and Nancy managed to consistently maintain that schizophrenic position for years and years. It's akin to negotiating with Kathy Bates or Hannibal Lecter.
But it really reminds me of Whimpy from Popeye claiming I'll gladly discuss paying you tomorrow if you open the government today. People don't buy it and it's old.
If they cannot talk now, why should we think they would talk if government is opened? What person could believe that? And whenever they do "talk," they lie anyway.
Why would they do so earnestly with any credibility in this case? Their main objective thus far has been to lie. They are professionals at it, practicing for years.
Deception is Democrats' game. They never meant to secure the borders. They never intended to go along with the fence, barriers or anything else. They will promise this or that, if they have to, and then promptly refuse to ante up. So what good is their word?
This is a Credibility Crisis that is also a border crisis. Those who caused and encouraged it refuse to negotiate on a solution to it. Who is indeed holding this country hostage?
Even worse, Democrats care more for the plight of illegal aliens than they do about the government, which is their holy grail. They will put that Government on the line to serve and protect illegals and an open border agenda. It is Democrats' credibility deficit.
Right Ring | Bullright