So the nutso Left has a brilliant plan? Not exactly, this comes from the RINO, Never Trump nuts. But what's the real difference, anyway?
Mission: Remove Trump from office
Plan: Force a secret vote in the Senate impeachment trial
Yeah, that ought to work! 😂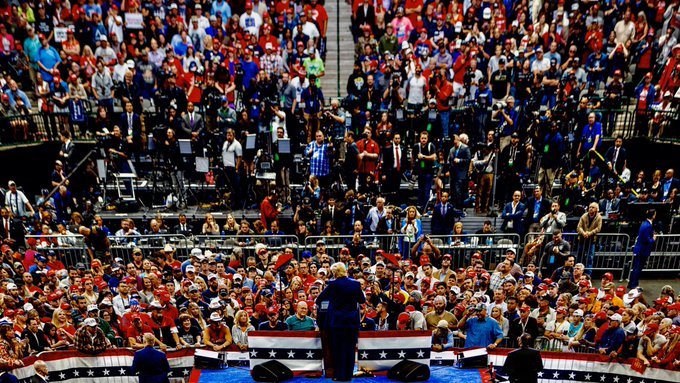 Never Trump strategist outlines plan to remove Trump by secret vote
by Tim Pearce | November 12, 2019 | Washington Examiner
A former adviser to President George W. Bush has proposed a way for Senate Republicans to remove President Trump from office while avoiding accountability from angry Republican voters.
Juleanna Glover is a veteran Washington hostess, lobbyist, and strategist who has worked on the staffs of Bush, former Vice President Dick Cheney, and former New York City Mayor Rudy Giuliani. Glover also advised Republican Arizona Sen. John McCain during his 2008 presidential run.
Glover, 50, a longtime Trump critic who supported independent candidate Evan McMullin in 2016, proposed a strategy for Senate Republicans to oust Trump should the House follow through with impeaching the president. In an article for Politico, Glover wrote that a handful of outgoing Republicans could take all the political heat and force the Senate to adopt a secret vote on the articles of impeachment passed in the House.
"Some might say transparency in congressional deliberations and votes is inviolable, and it's true that none of the previous Senate impeachments have been conducted via secret ballot," she said.
"But the Senate's role in an impeachment is analogous to a U.S. jury, where secret ballots are often used," Glover continued. "When Electoral College gridlock has resulted in the House picking the president — the House elected Thomas Jefferson in 1800 and John Quincy Adams in 1824 — that vote has been secret. And, of course, when citizens vote for president, they do so in private."
Right, so how many millions of Americans are you trying to piss off? Or only the ones who voted for Trump? Your plan is brilliant if you want a successful coup against the POTUS. This from a former Busher. So undermine the presidency for all future.
Sounds like a plan. But then why even bother having a trial at all? Why not just throw him out of office without one? Since there never is any accountability — for years at least — of Senators and Congress, let's just keep that shutout going.