Tag Archives:
WWII memorial
Here comes Obama's Organizing for Action brownshirts to the rescue.
Protesting the protestors: Gangsta Gov calls in the thugs.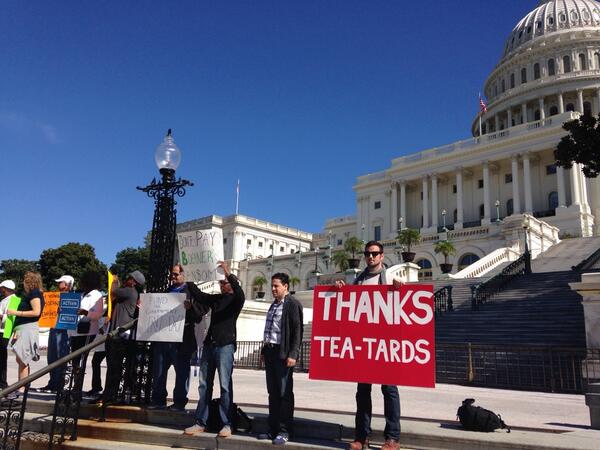 THE GOVERNMENT HAS DEFAULTED
As a vet, no, as a human being, I can no longer stomach the despicable treatment of our military and their families. With a shutdown, we can still find funds to have park police harass our vets!!! Where the hell are we living!!! Are we back to U.S. Marshalls rounding up runaway slaves, just like the "good" German soldiers who pushed the Jews into the boxcars. All of them claiming,"We are just doing our job". They all sold their souls, especially the park police for a pay check. There wouldn't be parks for them to even have a job if it wasn't for the brave military.
DERELICTION OF DUTY
Generally, dereliction of duty refers to failure through negligence or

obstinacy to perform ones legal or moral duty

to a reasonable expectation.  In other words, it means willful or negligent failure to perform assigned duties or

performing them in a culpably inefficient manner.

  Dereliction of duty is a specific offense in military law.  Under the regulations of military law, avoidance of a duty or failure to follow an order from a superior, noncompliance with procedural rules, misbehavior, malingering, self-injury with intent to avoid service, or

straggling can result in a charge of dereliction of duty.

Ineptitude is a defense against the charge. A  person convicted of dereliction of duty can be given a dishonorable or bad behavior discharge from his or her branch of service, and may forfeit pay or be sentenced to six months confinement.  U.S. Uniform Code of Military Justice (UCMJ), addresses dereliction of duty within the regulations governing the failure to obey an order or regulation.
President of the United States of America
Chairman of the Joint Chiefs of Staff
    General Martin E. Dempsey, U.S. Army
Vice Chairman of the Joint Chiefs of Staff
    Admiral James A/ Winnefeld, Jr., U. S. Navy
    General Raymont J. Odierno
Commandant of Marine Corps
Chief of Naval Operations
    Admiral Jonathan W. Greenert
Chief of Staff U. S. Air Force
    General Mark A. Welsh III
Chief of National Guard Bureau
There are others who do not fall under the UMCJ, but have abrogated their right to be part of the human race – including:
Secretary of the Interior
U. S. National Park Service Director
Some of those refused admission have already passed away – in their memory please pass this along!!!